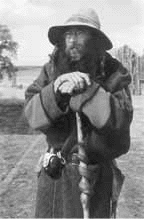 About the program presenter: LES VILDA
Les Vilda (aka: Rabi) presents a variety of learning presentations for all age groups. A lively and talented performer, Les will bring a segment of U.S. history alive for school programs, club meetings, community civic organizations, youth organizations, church groups, fairs, festivals and mall patrons.
Les has been actively researching and presenting programs on Western U.S. History (1800-1850) since 1983. He has done consulting work for Western artists, authors, and the National Park Service. Les is also a published author and recording artist. He was awarded the title of "Ambassador of the Santa Fe Trail" by the Santa Fe Trail Association in 1987.
Les's knowledge of history comes not only from books, but also from personal experience as a Living Historian. He has canoed the full length (2500 miles) of the Missouri River and 500 miles of the Mississippi River. He walked 980 miles of the Santa Fe Trail with a pack donkey in 1984 and 1100 miles of the trail with a horse and wagon in 1987. In 1988, Les traveled nearly 300 miles of the Oregon Trail in Wyoming on horseback and, in 1992, traveled 170 miles of the Nebraska City Cut-Off of the Oregon Trail in Nebraska with a wagon and a donkey-mule team.
A photo of Les and his donkey are part of a Santa Fe Trail traveling exhibit sponsored by the Smithsonian. Les has been a featured performer in numerous living history re-enactments and, among other performances, portrayed a buffalo hunter in the movie DANCES WITH WOLVES.
To learn more about Les, click here.....
---
You can contact Les (by email) for Program and/or Store Items information.
Les Vilda, PO Box 99, Wilber, NE 68465 (402) 821-3058
Copyright © 2003-2017. Have Donkey Will Travel. All Rights Reserved.

Page last revised: 9/23/17