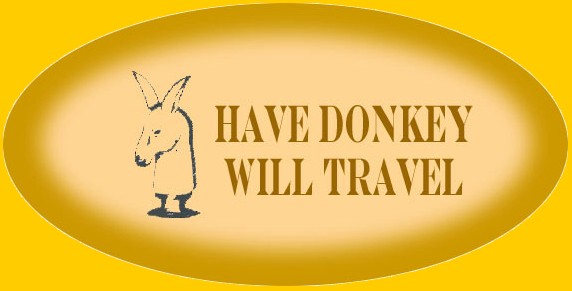 Welcome to HAVE DONKEY WILL TRAVEL!
This site offers some very interesting, fun, and educational LIVING HISTORY PROGRAMS (U.S. History 1800-1850).
***Les Vilda doesn't just regurgitate information from the history books - HE'S LIVED IT!!***
Some of his program topics include:
*Traveling the Santa Fe Trail (Les walked 980 miles of this trail in 1984 and traveled with a horse drawn wagon for 1100 miles of this trail in 1987)
*Following Lewis and Clark down the Missouri River (Les canoed the full length of the Missouri River, about 2500 miles, to get the story for this program)
*Life Traveling over the Prairie Trails (Les has logged in a total of well over 2000 miles crossing the prairies very nearly as the 1800's travelers had - on foot, pack donkey, horseback, and horse drawn wagon (single and team))
*Uses of Prairie Plants (Les has been studying prairie plants since 1980)
*Rope Making (Les has been making rope on a hand operated rope making machine since 1988)
Les Vilda has been presenting quality programs for over 20 years. If you would like to learn more about Les, click here. If you're interested in booking a really FUN program for your next event/festival/function, check out the Dr. Rabiís Medicine Show. Itís a real Hoot and a half! But don't let that stop you from checking out his other programs. They all receive high praise.
Here are some samples of what you'll find inside this website.....
CUSTOM handMADE

PET LEASHES

and toys

Made in the U.S.A. by Les Vilda
See what happened at the 2006 National Rope Makers Convention and Fiber Arts Festival. Plus, new information concerning the 2014 event.
(Click on the photo)
We also offer some very unique gift ideas in the Have Donkey Will Travel STORE. Things like home made - hand twisted pet leashes and jump ropes, how-to booklets, rope making machines, post cards, cassette tapes, ball caps, and a nice selection of 'Novelty Items'. Almost all of the items are made, or at least designed, by me - Les Vilda. Except the Rubber Chicken, that is. You're probably asking yourself, "What do rubber chickens have to do with Living History?" The answer.....Absolutely Nothing!!! They're just plain fun to have around.
I did not make or design these maps either, but I am very proud to be able to offer them on my website. These maps have more information on them than you could shake a stick at. The title of one of the maps is: A MAP HISTORY OF AMERICAN INDIAN TRIBES. It's one of those maps that you can look at for hours, come back later and see things you missed the first time...or second time....or, well you get the point. Actually, all 9 of these maps could be described like that. Click on the photo of the map (below) to get more information.
ATTENTION!!!!!!
TEACHERS....MUSEUMS....EDUCATORS!!!!!
A MAP HISTORY OF AMERICAN INDIAN TRIBES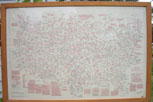 And 8 other maps pertaining to the history of the United States
ALL 9 MAPS ARE AVAILABLE IN 2 SIZES!!!!!
Don't fret folks, I'll be running again in 2020. My campaign will begin in the Spring of 2018. Stop back and enjoy the fun!
Campaign Souvenirs are available in the STORE
___________________________
A sad note to pass on - JOKER the Donkey has passed away. He died on Valentine's Day 2007. Joker and I had been together for 23 years presenting programs and/or traveling. If you would like to learn more about Joker's life, CLICK HERE.
____________________________
I hope you have fun browsing this site!!! Come back often....there are always new products and information being added.
Proprietor:

Les Vilda

PO Box 99

Wilber, NE 68465

(402) 821-3058
I would like to give a special thanks to Charles Strinz for helping me put this site together. Please check out his projects: Back On The Mississippi and Museums of Minnesota.
Copyright © 2003-2017. Have Donkey Will Travel. All Rights Reserved.

Page last revised: 2/12/17