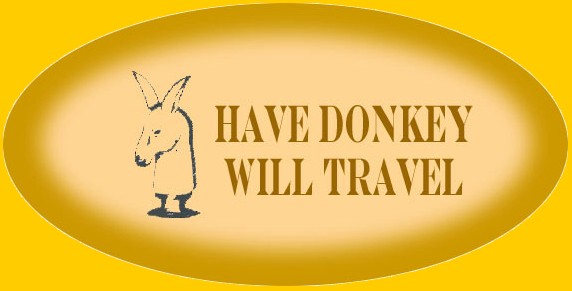 WELCOME TO: Have Donkey Will Travel
Here are some samples of what you'll find inside this website. Click on a box to get started. ENJOY!
LIVING

HISTORY

PROGRAMS

HISTORY

MAPS

ABOUT

LES

STORE

Add To
DONKEY CART

PRESIDENTIAL

CAMPAIGN

LINKS
___________________________
A sad note to pass on - JOKER the Donkey has passed away. He died on Valentine's Day 2007. Joker and I had been together for 23 years presenting programs and/or traveling. If you would like to learn more about Joker's life, CLICK HERE.
____________________________
I hope you have fun browsing this site!!! Come back often....there are always new products and information being added.
Proprietor:

Les Vilda

PO Box 99

Wilber, NE 68465

(402) 821-3058
Copyright © 2003-2017. Have Donkey Will Travel. All Rights Reserved.

Page last revised: 9/23/17